1x 360° ULTRA BRIGHT GREEN Plane & 1x Line Auto-Level Rotary Cross Laser KIT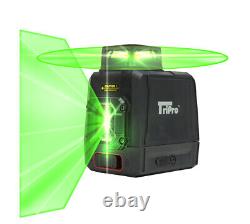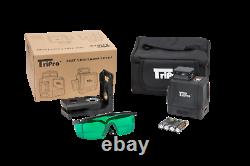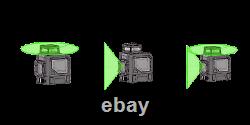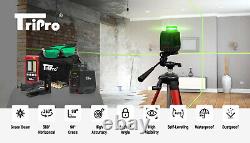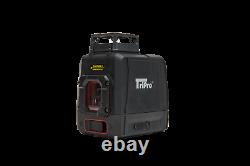 This Ultra Bright green 360° horizontal and 130° vertical beam fan line self-leveling cross laser level will help ensure accuracy even on the biggest job-sites. With the prominent 360° horizontal line, you can project a clear and accurate laser reference line across the job site quickly to establish level and allow users to work all around the room simultaneously.
Use straight out of the box with an accuracy of +/- 1/9 at 33 feet for lines. While indoors, you can get a working range of up to 130 feet, and the outdoor range can extend up to 165 feet when using an optional receiver. With the one-button operation, you can easily choose to project lines together or independently (130° vertical fan, 360° horizontal, or both at the same time). Equipped with our Tripro smart pendulum system, this laser level self-levels for ease of use.
Plus, it indicates out-of-level conditions when the pendulum is unlocked, making work even easier. Once the pendulum is locked, it switches to manual mode to lock lines for use at any angle.
Use in brighter working environments or at greater working distances with the pulse mode in conjunction with an optional'laser receiver'. For durability, the laser level is covered by TPR soft rubber for added shock resistance. This unit is IP54 waterproof, dust proof and works in a wide range of cold and hot temperatures. We are confident in the quality of our products and offer outstanding customer service and product guarantees for our customers.
TriPro is characterized by its international team of professional engineers and designers. With a commitment to quality and pursuit of innovation as our focus, we put our customers. In view as we are always working to Improve and enhance engineering designs for better product performance.
TriPro MLG1D Laser Level Specifications. Laser Source: 3D laser diodes, Green. Wave Length: 510 ±5 nm. Number of Beams: 2 (1xVertical, 1x360°). Beam 1: 360° Horizontal Line full room!
Beam 2: 130° Vertical Fan Line. Laser Safety Class: Class 2 (IEC/EN60825-1/2014).
Accuracy: ± 1/9 Inch at 33 feet (± 3mm at 10m). Working Distance/Visible Range: 130 Feet (30m) Indoor Brightness: 100 LUX! Working Distance with optional TriPro optional Receiver: 165 Feet (50m).
Power supply: 4pcs AA battery (LR6). Operation time: 610 hours for continuous operation with all laser beams on. Operating temperature range: 14 to 122 (-10 to 50).
Storage temperature range: -4 to 158(-20 to 70). Unit tripod mount: 1/4-20 5/8 mount is also included on the magnetic base!
Avoid direct exposure of the laser beam to the eyes. NEW TRIPRO 3D MULTI-LINE LASER LEVEL. TriPro's NEW and innovative 3D Multi-Line Green Laser Level featuring a 1 x 360° plane and 1 x 130° fan can produce full range beams on floor/ceiling/walls simultaneously making it easy to square, level, align and plumb. This Professional Series MLG1D line laser provides bright crossing horizontal and vertical beams without a blind spot, which is perfect for many trade works like floor, tile, door, lighting, room partition, window & blind installation, shop fitting, cabinet installation, electrical installation etc. Additionally, this kit comes with a Magnetic Pivoting Seat/Mount which allows easy attachment to ferrous metal surfaces.
Regardless of your needs at home or on a construction site, Tripro's laser level tool can be used for a wide number of applications to help you work efficiently. For example, it can be quite effective to use for home decor - such as hanging pictures, mirrors, curtain rods, decks and other home improvement projects. Feature Highlight: Multiple circuit switching functions.
This professional 3D laser features vertical, horizontal, and cross-line modes that allow you to project two lines, either simultaneously or independently. With each press of the power button, the laser tool will cycle through the various modes. The sequence of modes is 360° horizontal line first, then 130° vertical line, and finally, cross lines (H360°/V130°).
Feature Highlight: Self-leveling mode & Manual mode. When the laser tool is switched to the unlocked position, self-leveling mode is enabled. The laser beam will blink continuously at 2Hz when the tool is beyond self-leveling range (4°±1°).
When the pendulum lock position is selected, the laser tool can be placed at various angles to project non-level straight lines at any angle. The laser beam will blink every 3-5 seconds to remind you that the level is in manual mode and not self-leveling. To turn ON pulse mode: Slide the pendulum to the Unlocked Position, then press and hold the power button to turn on the pulse mode, the indicator lights up in blue. Application: The pulse mode comes in handy when the laser tool is used with a laser receiver for better operations in brighter condition or a greater working distance. This professional laser unit is only compatible with our Tripro Line Laser Receiver.
All Included Items in the TriPro Kit. 1x TriPro MLG1D Green Laser Level - Professional Series. 1x English User's Manual. 1x Multi-Compartment Zipper and Velcro Carry Bag (can hold: laser level, magnetic mount, safety glasses and optional receiver can also fit).
MLG1DR : WITH add-on Laser Receiver (for extra bright conditions or extended range outdoors). TriPro takes pride in the fact that it manufactures and distributes its products all across the globe.
The drive of our dedicated team of professional engineers and designers push us to stay a leader in our industry allowing us to deliver products for various high-end markets, pursuing technical innovation and quality commitment. With your interests at heart, we offer versatile products with a wide range of efficient functionality. The item "1x 360° ULTRA BRIGHT GREEN Plane & 1x Line Auto-Level Rotary Cross Laser KIT" is in sale since Wednesday, December 16, 2020.
This item is in the category "Home & Garden\Tools & Workshop Equipment\Measuring & Layout Tools\Laser Measuring Tools". The seller is "barrettace" and is located in Van Nuys, California. This item can be shipped to United States, Canada.
Model: TRIPRO LASER MLG1D
Item Height: 29.5 CM
Item Width: 36 CM
Material: Plastic
Type: Line Laser Level
Features: Multiple Circuit Switching Function
Color: Black
Measuring Technology: Laser
Item Length: 47 CM
Item Weight: 2.2 LBS
Brand: TriPro
Manufacturer Warranty: 1 year