4D 360°16 Lines Green Laser Level Auto Self Leveling Rotary Cross Measure/Tripod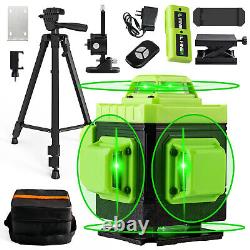 Laser class: Class II =10mW. Accuracy: 1mm at 7m (1/25 at23ft).
Automatic leveling angle: ± 3 °. Number of laser lines: 16. Battery: rechargeable 18650 lithium battery 2400mAh 2. Charger input: 100-240V AC 50-60Hz. Working environment: indoor and outdoor. Full layout with 4360°16 lines line laser, two 360°horizontal and two 360°vertical surfaces enable users to cover the floor, wall, ceiling around the room, three laser lines can be selected individually according to the job site application. Indoor and outdoor universal, high brightness green, clear indoor and outdoor, projection distance, high laser height, clear lines. IP54 waterproof and dustproof, anti-collision and anti-knock, anti-collision and anti-knock. Sound alarm when out of auto leveling range. Can be switched to any angle measurement mode, it will not issue an alarm.
With remote control, more convenient operation. Can be matched with 1/4" and 5/8" screw brackets and other equipment. Widely used in wall construction, floor laying, door and window decoration, stair laying, house ceiling, carpentry construction, home decoration, painting construction, etc. 1x Upper wall small chuck.