Bosch GRL4000-80CHVK-BAT 18V Rotary Self Leveling Horizontal/Vertical Kit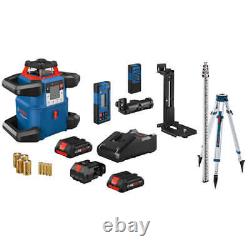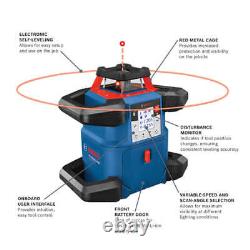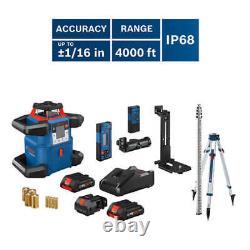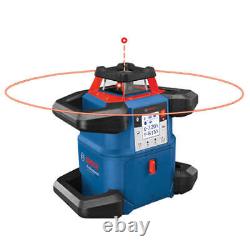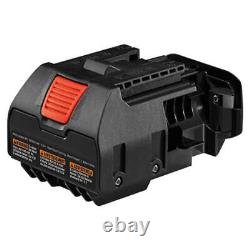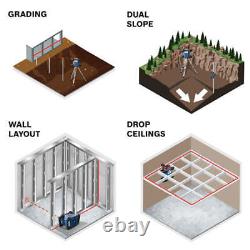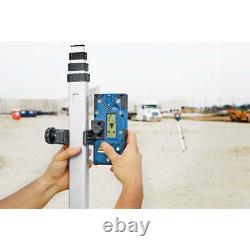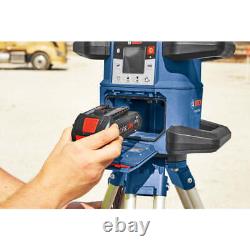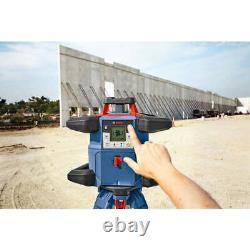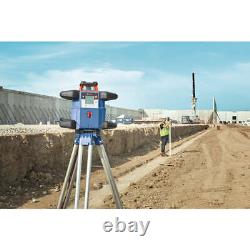 Fully featured rotary laser has Dual Dial-In Slope, CORE18V power, Bluetooth® connectivity, uCAL user-calibration and more. Dual Dial-In Slope allows slope angle adjustment on both the X and Y axes. Dual Power Source for extended runtime and option of a 4.0 Ah CORE18V battery or a battery adapter with four (D) cell batteries. Durable design engineered with a cage rubber overmold and an innovative handle design to stand up to the toughest jobsites; built to IP68 dust- and water-protection standards. Bluetooth® connectivity connects to a mobile device, linking to the free Bosch Leveling Remote App, to control sleep mode, Dual Dial-In Slope, and more.
UCAL user-calibration guiding the user step-by-step to confirm tool status or calibrate the rotary laser to ensure accuracy on the jobsite. Long working range range of up to 4,000 Ft. With laser receiver, the laser accuracy of up to ±1/16 In. In horizontal mode and ±1/8 In. Vertical-beam functionality provides a vertical beam at 90° point for layout, squaring and plumb applications.
Electronic self-leveling allows for easy setup and use on the job. Disturbance monitor indicates if tool position changes, ensuring consistent leveling accuracy.
Variable-speed and scan-angle selection allows for maximum visibility at different lighting conditions. Comprehensive kit includes a remote control, 18V 4.0 Ah battery and charger, alkaline battery adapter, wall mount, laser receiver, aluminum tripod, sturdy grade rod and durable hard carrying case. What's in The Box.
GRL4000-80CHV 18V REVOLVE4000 Connected Self-Leveling Horizontal/Vertical Rotary Laser. LR40 Laser Receiver with Bracket. 2 - GBA18V40 18V CORE18V Lithium-Ion 4.0 Ah Compact Battery. 14° F / -10° C 1 22° F / 50° C. Laser Receivers LR 1 G, LR 30, LR40, LR 50 Tripods BT160, BT170HD, BT300HD, BT 150 Grade Rods GR500 Mounts and Positioning Devices WM 4. All our sales are backed by a 30-day satisfaction guarantee.