Elikliv 4D Base Rotary Laser Level Self Leveling 16 Line Green Cross Line Remote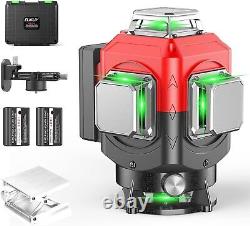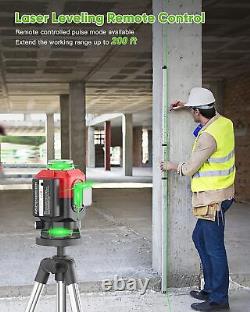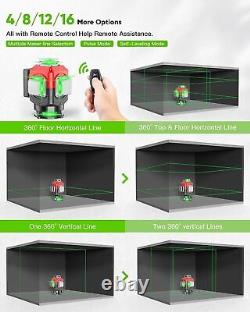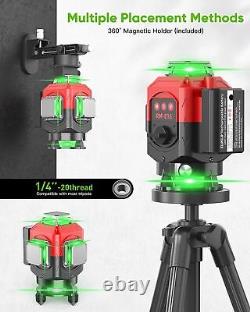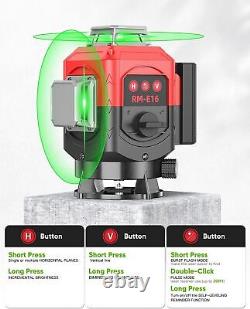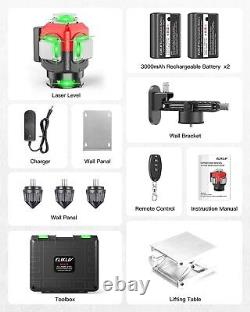 Laser Level Self Leveling, Elikliv Base Fine-tuning Laser Level, 200ft Outdoor Rugged 4D Green Cross Line Professional Laser for Construction and Picture Hanging, Class: Class 2. Precise fine-tuning: Micro-adjustment base integrated design, get rid you carry more accessories at work, so you can feel Elikliv lazer level precise laser technology revolution in more working hours. This is also the market that is closest to the customer's use of the scene so that you are in the fine-tuning of better experience precision, which is of tremendous help while measuring. 200ft Outdoor Robust: Using the Elikliv line laser receiver in strong light or outdoor conditions, the outdoor pulse mode helps to extend the laser range to 200ft. This self-leveling laser level adopts the Advanced green laser unit from, which has excellent brightness and higher stability. The bright green beams are perfectly visible even in a brightly lit room, with a working range of up to 130 ft (100 LUX), and an accuracy of 33ft ± 1/9 inch. 4 X 360° Green Laser line: Elikliv self leveling laser level has 2 horizontal 360° planes (the one on the ground can hit a 1/2" ultra-low horizontal line, and the one on the top can hit the lowest 4" horizontal line from the top surface), 2 vertical 360° plane with 16 laser lines can cover the floor, wall, and ceiling around the room. No more hassling getting the perfect measuring marks just to have level points and centering. Including a magnetic bracket with a 360° swivel for mounted to a metal surface, and an Iron Plate for sticking on the wall????
Heightening legs, suitable for measuring low wall???? The variety of mounting options makes it incredibly versatile and simple setup. We Provide 2 Flexible battery sources to extend your use time.
One Battery Supplys About 4 Hours While 16 Lines Full Opened. Elikliv 16 Line Laser Tool Kit: IP54 protection class, IP54 waterproof/dustproof to ensure that you can work normally and stably under complex working conditions. Package list:1 x Laser Level, 1x Magnetic Bracket, 2xRechargeable Batteries, 3x Heightening legs, 1x Remote Control, 1 x Charger, 1x Carry Case, 1x Manual (Elikliv is committed to provide Best-in-Class service to our customers- 24/7 Service Team :)We will reply your within 24 hours and do our utmost to help you. 1x Laser Target Plate, 1x Lift Platform, 1x Rotary Base, 1x 16 Line Laser Level, 1 x Remote control, 2 Rechargeable Batteies. Elikliv 4D Base Rotary Laser Level 200ft Precision Laser Technology Revolution.
More attention to detail on precision. Elikliv focuses on laser technology revolution.
Pulse mode extends the operating range to 200 ft. When used with the Elikliv laser receiver, it can be used in brighter environments. Note: Please keep pulse mode when using with the receiver. Self-leveling Mode: After powering on, the self-leveling mode is enabled by default.
When the device is out of self-leveling range(4 degrees)the laser beam will blink fast. Press and hold the Function button for =2 seconds to switch to manual mode.
Elikliv Green Laser Level ideal for alignment/leveling/squaring for Construction. Likliv provides the professional response you want. Our goal at Elikliv is a better product experience and service for you.