Elikliv 4D Green Beam 16 Lines 360° Laser Level Self Leveling 4x360° Rotary Lift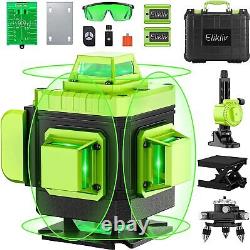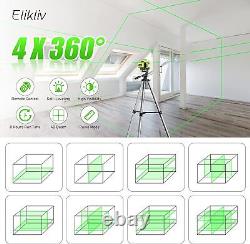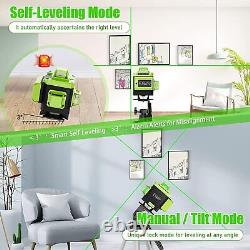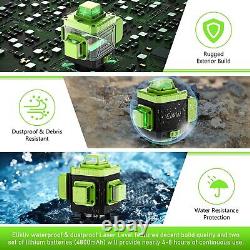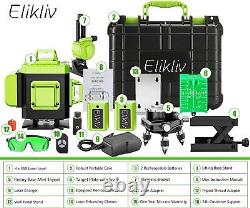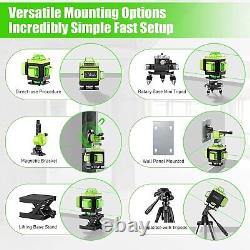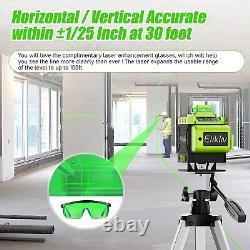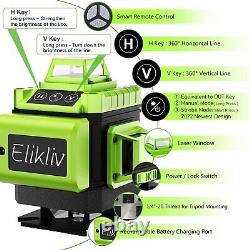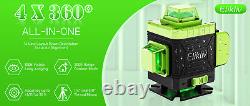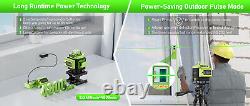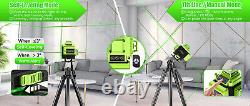 16 LINES 4 x 360° Beam Orientation Options? One of the most crucial features of any fabulous-quality laser level is the beam orientation option.
Laser level with remote control come in two broad categories. With "auto-leveling"(Press ON/OFF), a mechanism inside ensures that the projected lines are perfectly horizontal or vertical, if you get the device within±3°. ALL-in-One Versatile Flexible Mounting Options????? Including a magnetic bracket with a 360° swivel for mounted to a metal surface, and an Iron Plate for sticking on the wall???? Lifting Platform suitable for measuring low wall????
With a 360°manually smooth rotary base, which makes it easier to adjust the laser lines positions. With fine tuning knobs for laser fine adjustment???? Compatible with 1/4"or5/8" Tripod. The variety of mounting options makes it incredibly versatile and simple setup.
Multiple Add-ons Enables Smooth Workflow? We Provide 2 Flexible battery sources to extend your use time. One Battery Supplys About 4 Hours While 16 Lines Full Opened. It will last longer, and you do not need to worry about replacing this for a long time. This is a very needed feature considering the type of job.
Get More from Elikliv 16 Line Laser Tool Kit? IP54 protection class (splash+dust protection), ideal for work on construction sites. Package list:1 x Laser Level, 1x Lift Platform, 1x Magnetic Bracket, 2xRechargeable Batteries, 1 xRotary Base, 1x Remote Control, 1 x Charger, 1x Laser Target Plate, 1x Green Glasses, 1x Carry Case, 1x Manual (Any concerns or questions for our green laser level, just feel free to contatct us :)We will reply your within?? 24 hours and do our utmost to help you.
1/4 to 5/8 Mount Thread Adapter. The Notably Brighter Green Laser. The Elikliv class-2 laser adopts the Notably Brighter Green Laser Technology, which promises to make your meticulous tasks more straightforward with its high tech features.
Get More Multiple Add-ons from Elikliv Laser Level. The Green Laser Enhancement Glasses increase visibility of green-beam lasers especially in the daylight. You will love the laser enhancement glasses, which will help you see the laser line more clearly than ever!
Moreover, Green Glasses protect your eyes from been contacting directly with laser. Equipped with Integrated Bracket for Flexible Use. The built-in mount can also be screwed to any 1/4"-20 and 5/8"-11 tripod stand mounting for larger spaces or projects where you may need to move the laser around. This helps fix the position of the green laser level so as there is no hindrance to getting the perfect precision.