GREEN 3D 360° Rotary Laser Level Self Leveling Green Laser Rechargeable battery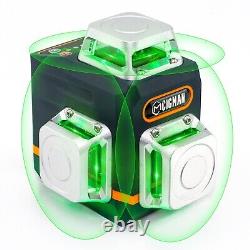 Self-leveling 3x360 ° line laser projects 1x horizontal panel and 2x vertical panels. Parallel alignment on floors, ceilings and walls with one horizontal and two vertical lines. It enables complete coverage of the entire room. Green laser lines for optimal visibility. The green laser line is 4X brightness than the red laser line.
With pulse mode allows good visibility outdoors up to 196ft/60m diameter range under 20000lux illuminance (receiver not included). Exact alignment of the device with Osram laser diode. 1 button for easy selection of different modes.
Guaranteed fast and error-free work thanks to automatic self-leveling in a few seconds. Leveling accuracy: ± 3mm / 10m. Robust housing, IP54 waterproof and dustproof. Extremely long working time: With 2 rechargeable lithium batteries.
Each battery lasts 20 hours with 12 laser lines in one charge. Battery status indicator on the device.
1 x 5V 2A Power Adapter. 1 x 3 Feet Type C Usb Charging Cable. 1 x Magnetic Pivoting Base. 1 x Laser Target Plate. High Visibility-- The green laser level line is 4x brightness than the red beam, which can provide a working distance of up to 100ft, available outdoors.
3x360° Full Layout-- 1x360° HORIZONTAL LINE & 2x360° VERTICAL LINES cover all around the room. Each button on this laser level corresponds to a single laser line, you can easily choose to turn on/off any laser line.
Remote Control & Rechargeable-- With the remote control, your alignment job becomes simple and fast. Type-C charging saves you the trouble of changing batteries. Self-Leveling & Manual Mode-- Unlock the pendulum, the laser level will self-level within 4°(otherwise the laser will keep flashing). Lock the pendulum to switch to the manual mode, meet your alignment needs from different angles.
What You Get-- 1x CM-701 Laser Level Tool, 1x Portable Bag, 1x Magnetic "L" Base, 1x Mini Tripod Base, 1x Remote Control, 1x Laser Target Plate, 1x Type-C cable, 1x User Manual.