Huepar 3DLaser Level Rotary Cross Line Self-Leveling Green Beams With Hard Case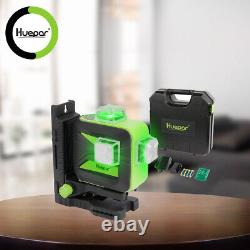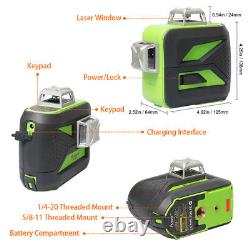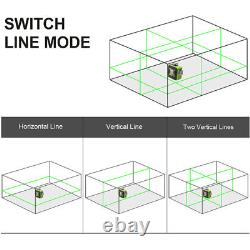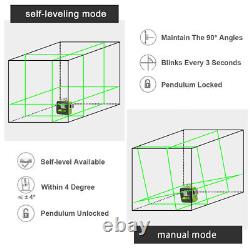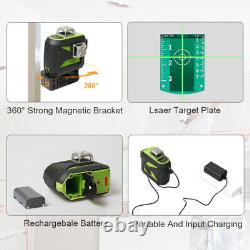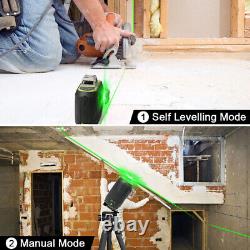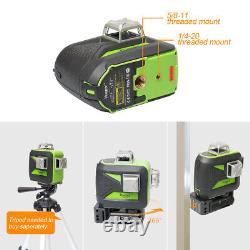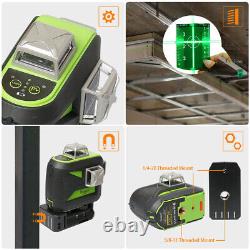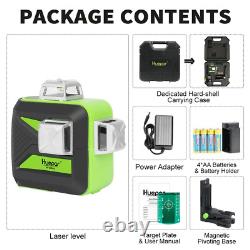 Laser Class: Class 2 (IEC/EN60825-1/2014). Horizontal/Vertical Accuracy:±3mm at 10m (±1/9 inch at 33Ft). Working Distance (Line):40M /130Ft (100 LUX), 60M/200Ft with Huepar Laser Receiver. Operating Time with lithium battery: 7 hours with all laser beams on. Operating Time with AA batteries: 2 hours with all laser beams on.
Mount Size: 1/4"-20 and 5/8"-11. 1 x Huepar 603CG 3D Green Laser Level. 1 x Magnetic Pivoting Base. 1 x Rechargeable Li-ion Battery. 1 x AA Battery Holder.
1 x Laser Target Plate. FULLY LAYOUT WITH 3 X 360 LINE LASERS: One 360° horizontal and two 360° vertical planes enable users to cover the floor, wall, ceiling all around the room. Two vertical lines cross at 90°angles makes user quickly visualize and finish square layout. This 360 laser level is a complete level tool as well as an alignment laser aids in full room layout. MULTIFUNCTIONAL LASER TOOL: The one 360° horizontal and two 360° vertical laser lines can be selected individually depends on job site applications.
With our smart pendulum system, this laser level tool self levels and indicates out-of-level condition while pendulum unlocked. Once pendulum locked, it switches to manual mode to lock lines for use at any angle. POWER-SAVING OUTDOOR PULSE MODE: This laser level projects green laser beam which is 4 times brighter than standard red beams with a working range up to 130Ft with an accuracy of +/- 1/9 at 33Ft. Besides highly visible green beam, a power-saving pulse mode extends laser range up to 200Ft with Huepar LR-6RG Line Laser Receiver in bright light or outdoor conditions and continuous working time.
In addition, this laser tool can be used at job site with direct input charging even if take out the battery. Charging protection help prevent the tool from overcharge. 4 battery indicators on keypad allow users to know the current battery volume anytime. The laser also offers 1/4"-20 and 5/8"-11 mounting threads to suit different tripod threads. Strong magnetic pivoting base allows for attachment to metal track and steel.