Huepar Rotary Laser Level Green Cross Line Horizontal Vertical Measuring 147ft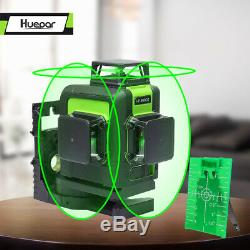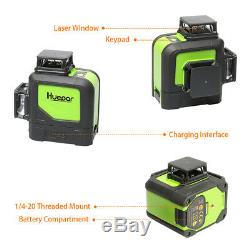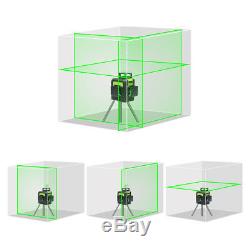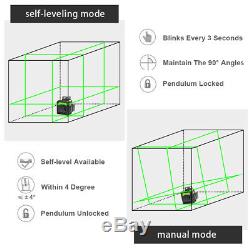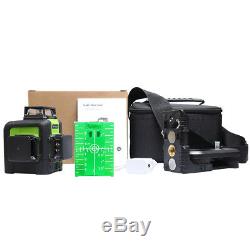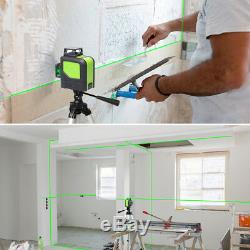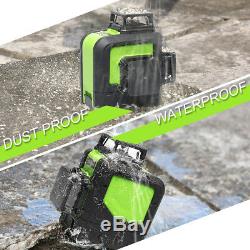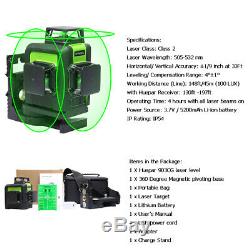 Laser Class: Class 2 (IEC/EN60825-1/2014), output power. Leveling Accuracy: ±3mm/10m± 1/9 Inch at 33 Feet.
Working Distance (Line): 45m/147ft, up to 60m/196ft with laser reveiver. Operating Time: 4 hours with all laser beams on. Spread Coverage: H360°/ V360° / V360° (3360°). Operation Temperature Range: 14- 122(-10-50). Storage Temperature Range: -4- 158-20-70. Size: 8.96.59.1cm (3.5x3.58x2.56). 1 X Huepar 903CG laser level. 1 X Magnetic pivoting base. 1 X Green laser target card. 1 X English User's Manual. Self-leveling mode & Manual mode.
When the laser tool is switched to the unlocked position, self-leveling mode is enabled. The laser beam will blink continuously at 2Hz when the tool is beyond self-leveling range (4°±1°). When the pendulum lock is in locked position, you can place the laser tool at various angles to project non-level straight lines. The laser beam will blink every 3-5 seconds to remind you that it's not self-leveling now.
The laser level has three laser windows, each window can launch 4 laser lines, totally 12 laser lines(4 laser lines combine to a plane). Attention: There are at least 4 laser lines, it can not keep 1 or 2 laser lines. The 903CG laser is a cross line laser level. This unit is self-leveling with accuracy range of within ± 4 °. The working range of this laser is up to 45m, depending on the work areas illumination. The 3D 903CG laser level is a compact, practical option for basic cross line leveling work. Measuring at 1/4 , the laser can fit comfortably in the palm of your hand. It has a hard plastic housing to protect the laser beams and pendulum leveling system within. The housing has a ribbed rubber casing that protects it from scratches while giving extra friction to make it slip resistant. The 3D 903G laser level has 2 mounting nut with a 1/4 " thread and a 5/8" thread at the bottom of the unit. This allows you to mount it either to a bracket or a tripod for security. The unit can be placed on a regular surface, but securing it usually guarantees less movement for more accurate work. A magnetic base is included in the package. The 12 lines Green beam laser level is a precision instrument and should be treated with care.
When not in use, the pendulum should always be in the Off position (OFF mode). Locking the pendulum allows the Cross Line Laser to better withstand vibration and Trauma incurred during transportation or if the units is dropped.
Intense Green Line Laser with Higher Visibility, It's more brighter and eye friendly than red laser, which gives you a more comfortable experience. New green diode technology makes green beams 300% as bright as red beams at the same distance, ideal for bright conditions where red beams are hard to see. Turn ON pulse mode: Slide the pendulum to the Unlocked Position, then press and hold the power button to turn on the pulse mode, the indicator lights up in blue. ApplicationWhen the pulse mode turned on, laser tool can be used with a laser receiver to work in brighter condition or a larger working distance. Note: When use with a receiver, its necessary to turn on the pulse mode It is compatible with Huepar Line Laser Receiver only.
Huepar's laser tools can help you work effectively in home decoration: such as line up some planters in anticipation of a new decking projects, home refurb projects, hang pictures, mirrors, curtain rails etc. And it can also work for railway construction, bridge construction, wall construction, etc.
The item "Huepar Rotary Laser Level Green Cross Line Horizontal Vertical Measuring 147ft" is in sale since Saturday, January 4, 2020. This item is in the category "Home & Garden\Tools & Workshop Equipment\Measuring & Layout Tools\Laser Measuring Tools".
The seller is "huepar_store" and is located in La Mirada, California. This item can be shipped to United States.
Features: Self-leveling
Material: Plastic Composite
Item Length: 8-10cm/0.26-0.32ft
Measuring Technology: Laser
Type: Cross-Line Laser Level
Brand: Huepar
MPN: 903CG
Model: Does Not Apply
Country/Region of Manufacture: China
UPC: Does not apply
EAN: Does not apply
Size: 8.9*6.5*9.1cm (3.5x3.58x2.56)
Color: Green
Laser Class: Class 2 (IEC/EN60825-1/2014)
Laser Wavelength: 510 nmGreen
Leveling Range: 4°±1°
Power Source: Li-lon battery
Protection Class: IP54
Operating Time: 4 hours with all laser beams on
Leveling Accuracy: ±3mm/10m
Working Distance (Line): 147ft, up to 196ft with laser reveiver
Weight of the product: 939 g