Kapro 8991G PROLASER Rotary Green, Dual Slope Self-Leveling Rotary Laser Kit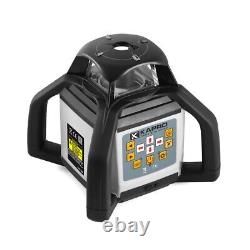 IP-65 protection from dust and moisture. Horizontal or vertical 360° rotating beam. Five variable speeds (0, 60,120, 300, 600 rpm). Six scan modes (0°, 10°, 45°, 90°, 180°, 360°). Laser range up to 300m (980 ft) with laser detector. Accuracy ± 0.1mm/m (0.0001? Manual mode for marking slopes of up to ±5° in both X and Y planes. Protective Rubber over molded casing. For vertical and horizontal use. 2 Battery brackets for regular & rechargeable batteries. Accuracy: 0.1mm/m (0.0001? Indoor laser range: 50m (165').
Outdoor laser range: 300m (980') with detector. Electronic self-leveling range of ±5°. Dimensions: 206 X 206 X 211 mm. Conforms to CE, RoHS, and FDA safety regulations.