Line Laser Level, 3D Green 12 Lines, 360° Rotary Self-Leveling Mqt-12 Green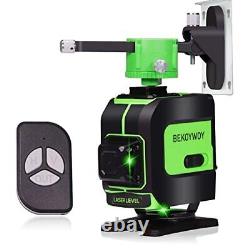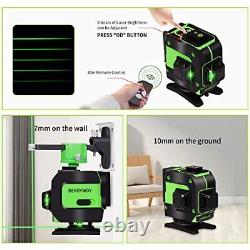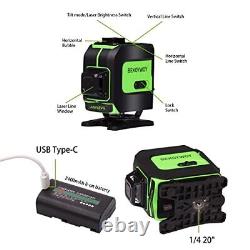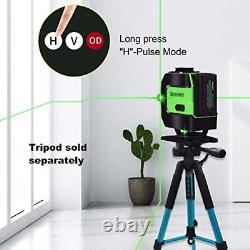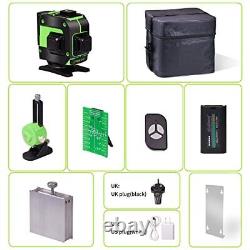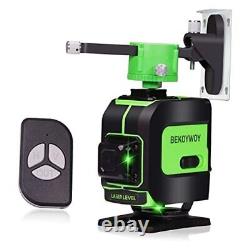 Line Laser Level, 3D Green 12 Lines, 360° Rotary Self-Leveling Mqt-12 Green. - Class I Green cross laser line, <1mW, with high visibility and precision. S MQT-12 green beam laser uses the latest German laser diode, which is twice as bright as a red laser from the same power source. One 360° horizontal and two 360° vertical planes enable users to cover the floor, wall, ceiling all around the room. 5 Brightness Adjustment & REMOTE CONTROL? - Press the "OD" button shortly; you can adjust the laser brightness according to the working condition. This laser level can use both the touch button and the remote control in order to easily operate 30m away.
Floor and Wall Powerful Green 12 Lines, 7mm on the wall, 10mm on the ground. - Switch the lock to "ON" to turn on the laser tool, the self leveling mode allows the device to automatically level within 3 degree, it alarms when beyond the self leveling range.
Press the "OD" button for 3 second to enter tilt model, then you can place the laser tool at any angle to project the tilt lines. Pulse Mode & 2 Rechargeable Batteries? - Long Press the "H" button to enter the Pulse Mode. In pulse mode, the laser tool can Work with a laser receiver for working in a brighter condition or a larger working distance.
The laser beam(s) in pulse mode is dimmer than in normal mode. 2500mAh Li-ion battery can be changed at necessary time and can be used continuously for 8 hours. - The rotating base ensures the working accuracy of the vertical line without moving the fuselage. The lifting base is more convenient to adjust the height of the horizontal line. 3D Line laser level, Wireless Remote, 2400mah Li-ion battery x2, Line laser Hanging Bracke, Target, Cloth bag, Manual, Charge, Adjustable Lifts.