Stabila 04500TR LAR160 1800' Green Beam Rotation Self-Leveling Laser Kit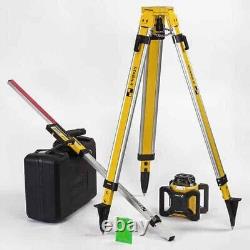 Listing Overview: Stabila 04500TR LAR160 1800' Green Beam Rotation Self-Leveling Laser Kit. Stabila LAR 160 G 04500TR Rotation Laser Set With Tripod and Grade Rod is what you're looking for to achieve vertical and horizontal leveling for major outdoor or interior construction projects. Do you need to work precisely and avoid costly measurement errors and rework? Then the STABILA LAR 160 G with GREENBEAM technology is the right rotation laser for you. It is quick to set up, easy to operate, and suitable for use over large distances when linked to a receiver. All in all, it is a high-quality product that can endure the elements and deliver precise results - exactly what you need. STABILA GREENBEAM technology for improved visibility. Four laser functions for versatile use - horizontal and vertical rotation, plumb-line function and square in vertical operation.
IP 65 - dust and waterproof. Shock-absorbent casing provides protection against impacts - the stable housing cover also protects the laser optics. Easy to use via three control buttons - on/off, tilt mode, manual mode. Battery drawer - easy replacement. Large working area with REC 160 RG set receiver - up to 2000 ft (600 m) in diameter.
Two mounting points for vertical and horizontal applications, 5/8 x 11 threads integrated in the housing. Green, magnetic high-visibility plastic target plate with cross-hair. Laser wavelength : 510 - 530 nm. Diameter of working area for set receiver : 2000 ft.